This page provides members access to various Quebec databases including two subscription databases, the BMS2000 and the PRDH-IGD databases. Access is free with your Québec Genealogical eSociety membership! We are continually adding new databases to help our members with their research in Quebec.
Please login or become a member to access these databases.
Here is an example of our databases page: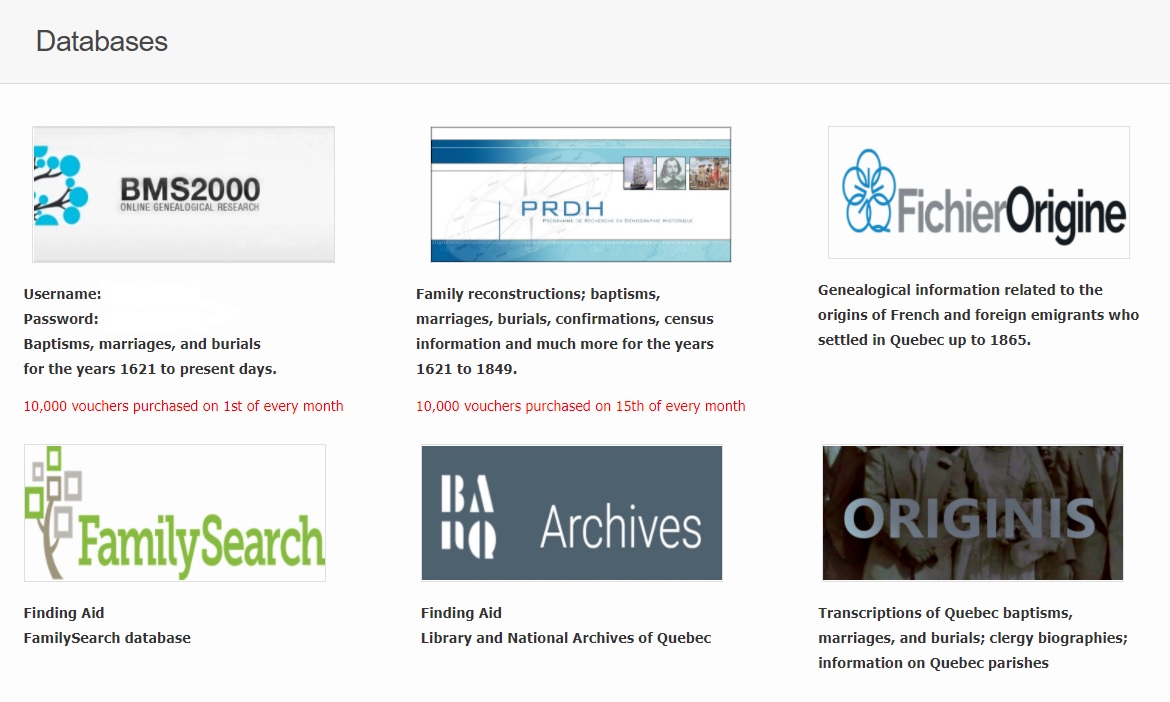 The BMS2000 database contains:
BMS records (births, marriages and deaths) from 24 genealogical societies of Québec. Close to 10 million BMS records have been collected.
The following is an example of the list of marriages displayed for Jean Gervais and Tessier: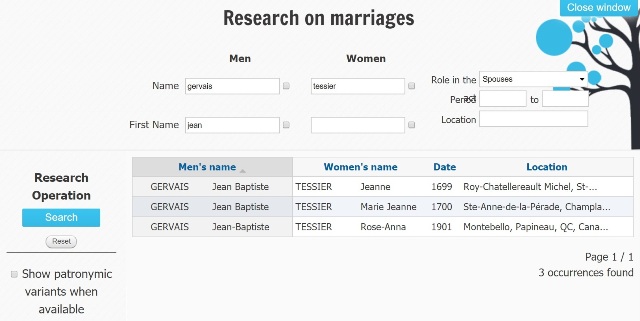 The following is the marriage information for Jean Baptiste Gervais and Marie Jeanne Tessier: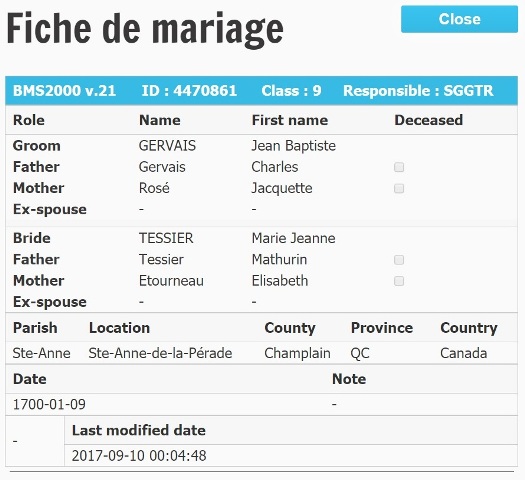 The PRDH database (The Research Program in Historical Demography) contains:
A repertory of vital events, 1621–1849, for Québec, which includes approximately 2.3 million baptismal, marriage, and burial certificates registered in Catholic parishes prior to 1850. Also included are approximately 26,000 Protestant marriages recorded before 1850 and more than 20,000 certificates of various other types: census records, marriage contracts, confirmations, and lists of immigrants.

A genealogical dictionary of families, 1621-1824 for Québec, which offers a reconstruction of the history of all families who settled in the St. Lawrence Valley, or roughly the current territory of today's province of Québec, from the beginning of French colonization to 1824.

A repertory of couples and filial relations, 1621–1824 for Québec, which specifies for each spouse the names of his or her parents and the names of his or her other spouses, if applicable, with a link to these couples. In addition, a list of the couple's children who married before 1824 is supplied, with a link to their first marriage.
The following is an example of family information for Jean Baptiste Gervais and Marie Jeanne Tessier: